Luxury Private Boat Tours
A luxury private boat tour in Amsterdam; how does that work?
A luxury private canal tour is the equivalent of a five star hotel. It takes place in a stylish private boat, in a refined atmosphere, with personal attention from the captain and the staff. Every tour is customised to your specific wishes and needs: from starting point, duration and route, to gourmet catering and drop off location.
Pros of a luxury private boat tour in Amsterdam
The most beatiful boats
The best food and drinks on board
Exclusively for your own party
Tailored to your wishes
Cons of a luxury private boat tour in Amsterdam
Our favorite Amsterdam private boat tours in the luxury segment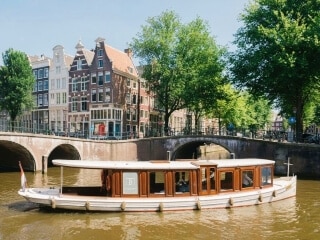 The saloon boat 'Ondine' is the perfect boat for a truly exclusive Amsterdam canal tour. This boat is more than a century old, but in excellent shape. It offers all you can wish for, with outstanding service and catering on board. Suitable for business meetings and private parties up to 30 people. With nice weather the sides can be opened and there is even an outdoor terrace.
To the 'Ondine' luxury canal tour boat