Private Boat Tours in Amsterdam
A PRIVATE BOAT TOUR IN AMSTERDAM, WHAT'S THAT LIKE?
For a private boat tour, without any others on board, there are two options. The most economical option by far is to rent a self-drive boat. However, that comes with a couple of restrictions: these boats are small, a skipper is not included, the location is fixed and there is no catering. If you want a more customised boat tour and don't fancy driving yourself, or if you want to take a large group on one boat, then you should rent a private boat with a skipper. The skipper can pick you up and drop you off wherever you like and you can enjoy catered food and drinks. The duration is up to you and -if you want- you may also choose the route. Below is our selection of decent private boat tours. For the luxury version of a private boat tour, please have a look at our luxury/VIP private canal tour section.
PROS OF A PRIVATE BOAT TOUR
Just your group and the skipper
Flexible in duration, routes and stops
Many catering options
CONS OF A PRIVATE BOAT TOUR
Not allowed to drive yourself
Relatively expensive for small groups
Difficult to organise on short notice
OUR SELECTION FOR A DECENT AMSTERDAM PRIVATE BOAT TOUR WITH A SKIPPER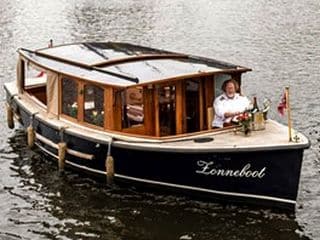 This classical saloon boat is relatively small (maximum 12 people) and has a very charming appearance. It has a cabin mainly made of wood, large windows and a cozy open air seating in the rear of the boat. It has a friendly and flexible captain and music and drinks on board, but no toilet. Catering can be ordered in advance.
'Zonneboot' Private Boat Tour