Amsterdam Canal Tours
The best and most affordable boat tours in Amsterdam
all types of boat tours
clearly categorised
the very best offers
compare them yourself
all types of boat tours
clearly categorised
the very best offers
compare them yourself
A canal tour, the undisputed number 1 thing to do in amsterdam!
A canal tour is a definite must do for everyone visiting Amsterdam. Without a doubt the Amsterdam city centre is one of the most beautiful in the world. The main reason for that is the gorgeous canal system. Centuries ago is was developed as a means of transport. Now the canals form the unique backdrop of the city. There's no better way to enjoy this than by taking a canal tour in one of its many forms. Below you will find all types of boat tours, with the best offers in each category.
1. Self-Drive Boat Rental (TIP!)
A boat for yourself




An authentic experience

Enjoy your own food and drinks onboard
Great value for money
A lot of freedom
Experience the highlights in an efficient way

Includes commentary on highlights

Possible on a small budget

Wide range of departure times and locations
4. Standard Canal Cruise Open Boat
Get a quick overview of the highlights 
Great view of the city on an open boat
With skipper and guide
Beverages on board
5. Hop on – Hop off Canal Cruises
Use as you wish within 24 hours
Easy to combine with other activities
Good value for money
Nice alternative for taxi or public transport
7. Luxury Private Boat Tours
The most beatiful boats
The best food and drinks on board
Exclusively for your own party
Tailored to your wishes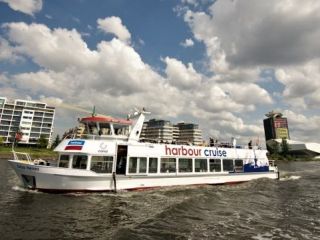 Experience the unknown side of Amsterdam
Interesting contrast to the old city center
Escape from the busy city center
Fascinating architecture
Amsterdam Canal Tour Selector
BOOK YOUR BOAT TOUR IN ADVANCE
A boat tour on the Amsterdam canals is by far the most popular attraction in the Netherlands. It is the favourite way of sightseeing and relaxing for locals and tourists alike. Therefore, most companies offering boat tours are very busy on weekends and holidays, often resulting in long waiting times or even fully booked tours. Also several tour types require some preparation and cannot be booked last minute at all. Therefore, we strongly advise to book your canal tour in advance.