Amsterdam Canal Tours
The best and most affordable boat tours in Amsterdam
all types of boat tours
clearly categorised
the very best offers
compare them yourself
all types of boat tours
clearly categorised
the very best offers
compare them yourself
An Amsterdam canal tour, the undisputed number 1 thing to do!
A canal tour is a definite must do for everyone visiting Amsterdam. Without a doubt the Amsterdam city centre is one of the most beautiful in the world. The main reason for that is the gorgeous canal system. Centuries ago is was developed as a means of transport. Now the canals form the unique backdrop of the city. There's no better way to enjoy this than by taking a canal tour in one of its many forms. Below you will find all types of boat tours, with the best offers in each category.
The different types of Amsterdam canal tours
1. Self-Drive Boat Rental (TIP!)
A boat for yourself




An authentic experience

Enjoy your own food and drinks onboard
Great value for money
A lot of freedom
Experience the highlights in an efficient way

Includes commentary on highlights

Possible on a small budget

Wide range of departure times and locations
4. Standard Canal Cruise Open Boat
Get a quick overview of the highlights 
Great view of the city on an open boat
With skipper and guide
Beverages on board
5. Hop on Hop off Boat Amsterdam
Use as you wish within 24 hours
Easy to combine with other activities
Good value for money
Nice alternative for taxi or public transport
7. Luxury Private Boat Tours
The most beatiful boats
The best food and drinks on board
Exclusively for your own party
Tailored to your wishes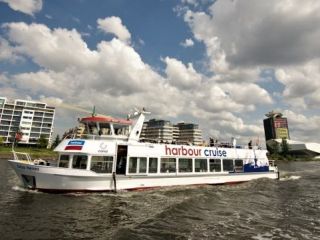 Experience the unknown side of Amsterdam
Interesting contrast to the old city center
Escape from the busy city center
Fascinating architecture
Need help picking your favorite Amsterdam canal tour?
Amsterdam Canal Tour Selector
8 useful tips for a successful canal cruise
Are you planning to take a canal cruise in Amsterdam? Take advantage of our 8 useful tips for a successful canal cruise:
1.
Familiarize yourself with the different types of canal cruises
There's nothing wrong with a standard canal cruise. However, it's good to check if that's really what you want. There are so many other likable options, ranging from pedal boats and self-drive electric boats to luxurious private boat tours and dinner cruises. So take some time to choose the canal cruise that fits your budget, the available time, and the group you'll be cruising with.
2. The early bird catches the worm
Most canal cruises depart at fixed times. If you're late, you'll literally miss the boat. But if you arrive early, you'll have the best seats to choose from: right by the window or on the outdoor deck in good weather. Even customized boat tours have specific start and end times. By arriving well in advance, you won't waste precious cruising time.
3.
Do you prefer crowds or tranquility?
The timing of your cruise can make a large difference:
– Mornings are usually very calm on the canals, even on weekends;
– Saturday and Sunday afternoons are bustling, lively, and sometimes even a bit chaotic;
– For a romantic cruise with your loved one, evenings are best when the canals are beautifully illuminated.
4. Prepare for sunshine and rain
At the risk of sounding like your mother: dress appropriately! It's usually cooler on the water than on land. If the sun is shining, it can be quite intense without a hat, sunglasses, and sunscreen. And trust me, you'll be glad you brought that raincoat or umbrella when a sudden summer downpour leaves you with nowhere to seek shelter on an open boat.
5.
Cruising makes you hungry (and thirsty…)
I'm not sure what it is, but cruising tends to make you crave delicious food and drinks! So make sure to arrange some snacks and beverages for the journey. For private boat tours, dinner cruises, and luxury canal cruises, you won't need to bring anything yourself. However, for most other boat tours, it's best to stock up on provisions in advance and bring them on board.
6.
Capture the moments!
If there's one city that's photogenic, it's Amsterdam, especially from the water. Colorful, vibrant, diverse, idyllic, historical, and distinctive. Make sure your mobile phone is fully charged and/or bring your camera along. Seize the right moments, and you'll have beautiful memories for later and great content for your social media.
7.
Save time and money: combine your canal cruise with other attractions
Except for the hop-on hop-off canal cruise, most canal cruises don't take up the entire day. Combining your canal cruise with other activities is not only efficient but often more cost-effective than buying separate tickets. Some obvious combinations include:
Blue Boat canal cruise + Heineken Experience + De Pijp district + Albert Cuyp Market
Blue Boat canal cruise + Van Gogh Museum + Vondelpark
Lovers canal cruise + Rijksmuseum + De Pijp district
Friendship canal cruise + Red Light District
Flagship canal cruise + Anne Frank House + Jordaan district
Harbor cruise + NDSM area
Hop-on hop-off canal cruise + everything 🙂
8.
Reserve your canal cruise in advance
Amsterdam keeps getting busier, and canal cruises are incredibly popular among both locals and tourists. Especially during good weather, weekends, and holidays, it can be challenging to arrange a last-minute canal cruise. Don't want to miss out on your favorite cruise? Make a reservation in advance. In most cases, you can easily do this online.