Self drive boat rental Amsterdam (without license)
SELF DRIVE BOAT RENTAL: WHAT'S THE DEAL?
In Amsterdam you can also rent a self-drive canal boat. You don't need any license nor experience for that. The safe and sturdy rental boats are easy to drive yourself. They have an emission-free and silent electric motor and are suitable for up to six people. Before departure you will receive a personal instruction about the boat, the most important rules and the most beautiful canal routes. You may bring your own food and drinks. When renting your boat, life jackets, foam cushions, full batteries, insurance and a good map of the canals are included. The rates for a self-drive boat rental start at € 79,- all-in. That's a great deal, considering you rent the boat for three hours and up to six people.
PROS OF A SELF DRIVE BOAT RENTAL
Authentic experience
A boat for yourself
Enjoy your own food & drinks
Good value for money
CONS OF A SELF DRIVE BOAT RENTAL
No guide or professional skipper on board
One person (the skipper) must stay sober
Limited to a maximum of six people per boat
Relatively weather dependent
OUR SELECTION FOR A SELF DRIVE BOAT RENTAL IN AMSTERDAM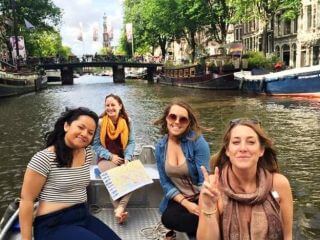 At Boats4rent you can rent a small open canal boat to sail yourself. From the dock at the lively Westerpark (near the Jordaan area) it is only a short drive to the most beautiful parts of the city centre. The boats are decent but rather basic and the rates are the best in town, starting at just €79 for a three hour canal tour. Before departure you will receive a good personal instruction and a clear map with the best canal routes. Popular with locals and tourists, so make sure you reserve your boat in advance.
Rent a Boat from Boats4rent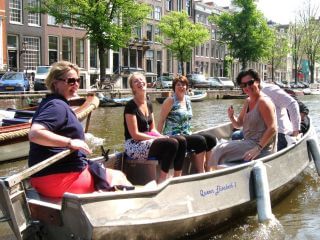 Boaty Boat Rental has two types of electric canal boats for rent: fully open or partially covered. It's easy to drive yourself. You don't need a license for that. The location of Boaty is in the popular 'de Pijp' area, not far from the Museum Quarter and the Heineken Experience. Boaty has a limited number of boats available, so we recommend to book online in advance.
Rent a Boat at Boaty Boat Hire
THE LOCATIONS OF SELF DRIVE BOAT RENTAL COMPANIES IN AMSTERDAM