Best Amsterdam Boat Tour Deals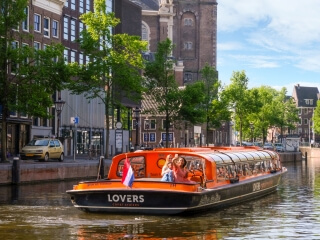 1. CANAL CRUISE IN LARGE TOUR BOAT
the most economic canal cruise: 1 hour boat tour for € 12,60 / 6,75
The cheapest Amsterdam canal cruise is on a large traditional tour boat by 'Lovers', a large tour company very close to Amsterdam Central Station. They offer nice one hour city center canal tours. Adults pay € 12,60 and children just € 6,75. These rates only apply if you use our discount code: RVV10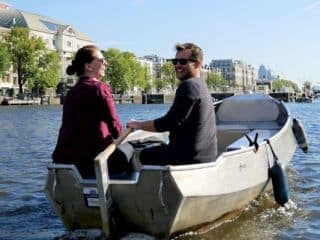 A 3 hour private boat rental with a maximum of 6 people is possible from just € 79, – per boat. The two boat rental companies offering this excellent value for money are Boaty Rent a Boat in 'De Pijp' (southern city center) and Boats4rent Boat Hire at the Westerpark (western city center). You don't need a license to rent and drive one of these electric canal boats. Advance online booking is recommended.
3. PANCAKE BOAT HARBOUR CRUISE
unlimited pancakes during a harbour cruise
An interesting harbour cruise of 75 minutes combined with unlimited pancake eating. The Amsterdam Pancake Boat is a great deal at just € 22,50 for adults and € 17,50 for kids. While you are enjoying the nice views, your kids can play in the on board ball pit.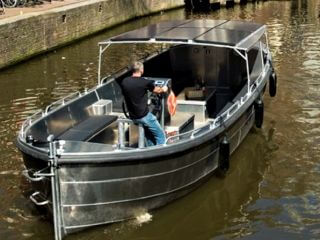 4. PRIVATE CANAL BOAT TOUR WITH A SKIPPER
most economic large private boat (max. 43 p.), two hours for € 360,-
In Amsterdam renting a large boat always comes with a skipper. Generally, that doesn't come cheap. For large groups this canal boat is an excellent deal, starting at just € 10,- per person at full occupancy for a beautiful two hour private canal tour.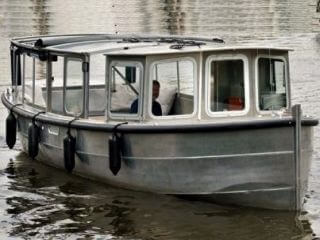 5. PRIVATE SALOON BOAT TOUR WITH SKIPPER
most economic saloon boat (max. 24 p.), two hours for € 400,-
The most economic saloon boat for a private canal tour is this newly built 'Suzanne'. It always comes with a skipper and fits up to 24 people. With that group size you can make a beautiful two hour private canal tour for just € 17 per person.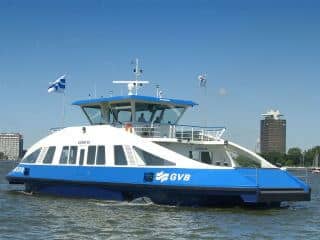 6. FREE FERRY ON THE 'IJ'
nice boat rides in the port area, for free!
At the north side of Central Station there are free public ferries to various destinations in the northern part of Amsterdam, at the other side of the IJ. Interesting destinations include the Eye (film museum & cinema), A'dam Tower, NDSM shipyard, Tolhuistuin and Paradiso Noord. It's allowed to take your bike on board, using the ferries as your gateway to rural Waterland and nice towns like Marken, Monnickendam, Volendam and Edam.
THE LOCATIONS FOR THE BEST AMSTERDAM BOAT TOUR DEALS