Amsterdam Harbour Cruises
WHAT TO EXPECT FROM AN AMSTERDAM HARBOUR TOUR?
A large tour ship with a professional captain takes you and the other passengers on a fixed route. This route combines the busiest part of the IJ with a more quiet part of the port area to the west of Central Station.
You get to see Amsterdam from a very different perspective: rough, spacious and industrial at some spots. Recently, a lot of new buildings have been built on both sides of the IJ. Behind that on the south side you can see the silhouette of the old city centre. The northern shore is an interesting mixture of industry, cultural venues, office buildings, residential areas and hospitality venues.
Additionally to the regular freight ships and ferries, there is a chance of spotting a really large sea cruise ship. Apart from the rare Harbour Safari, do not expect to get deep into the industrial part of the harbour. That is a highly restricted area.
In our opinion a harbour tour is not a substitute for a proper Amsterdam canal tour. It is rather a worthwhile additional experience. If you have the time, do both!
PROS OF AN AMSTERDAM HARBOUR TOUR
Experience the unknown side of Amsterdam
Interesting contrast to the old city center
Escape from the busy city center
CONS OF AN AMSTERDAM HARBOUR
TOUR
Cold, rain and wind have more impact here
The Amsterdam canals are not included in this tour
Not a proper replacement for an actual canal tour
OUR PICK FOR AN AMSTERDAM HARBOUR TOUR
The Pancake Boat sails up and down the IJ, the large open water behind Central Station. During the 75 minute tour there's an unlimited choice of pancakes. A real treat for families with children. They will also enjoy the ball pit on board. The tour starts and ends at the former NDSM shipyard. You can get there by free ferry from Central Station. At fixed times from Tuesday to Sunday. There is a nice discount rate for kids.
Book the Pancake Boat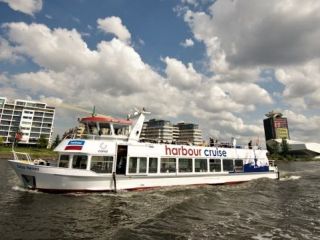 The Harbour Cruise by Stromma departs on the northern side of Central Station and takes about 1,5 hours. You'll get to see the IJ and the busiest part of the harbour close to the city centre. The time schedule is highly seasonal.
Stromma Harbour Cruise
The Harbor Safari is a long (three hour) boat tour and very exclusive for two reasons. It departs only a couple of times per year. And it is the only tour that is allowed deep into the more distant and highly restricted parts of the harbour. The explanation is only in Dutch.
Harbor Safari